My caseload is primarily preschoolers and children in early elementary school, and I'm always incorporating some kind of toy into my speech therapy sessions. Parents are always asking me what kind of toys they should buy for their kids, and with the holiday season around the corner, I thought it'd be good to share with you some of my favorite toys to promote speech and language skills in children.
Children learn SO much in play. I love this quote from Fred Rogers: "Play is often talked about as if it were a relief from serious learning. But for children play is serious learning. Play is really the work of childhood." Dr. Karen Purvis put it this way: "Scientists have recently determined that it takes approximately 400 repetitions to create a new synapse in the brain – unless it is done with play, in which case, it takes between 10-20 repetitions." Play is THAT important. Let your children be little and explore. They are learning so much when they do!
Now, not all toys are created equal. Toys that promote creativity, movement, and pretend play skills are preferred. Electronic toys may be convenient, but they do all the talking for your kids. Quiet toys, or toys that do not require batteries, allow your child to be creative and come up with their own sounds! Below I've listed some of my favorite toys to develop speech and language skills. I've used these toys both with my own little girls at home as well as in the therapy room!
1. Mr. Potato Head
I love using Mr. & Mrs. Potato Head to target a variety of goals in speech. It is such a versatile toy and definitely a crowd pleaser, especially with my preschoolers! I use the potatoes to target pronouns, negation, body parts, articulation, prepositions, following directions (link to following directions seasonal bundle), and verbs. I've had some kiddos on my caseload who just could not get their pronouns down, but as soon as we played with Mr. & Mrs. Potato Head for a few weeks, their percentages greatly increased! We work on "She wants the yellow hat" and "He wants the mustache" or "Give the red nose to him." It literally is my most requested toy in speech. I recently wrote a blog that goes into more depth about how I target each of the different areas using potato heads. You can click here to check it out!
2. Farm
There is so much you can do with a farm set! Naming animals & their sounds, expressing the colors of the animals, articulation (link to apraxia flashcards), vocabulary, verbs, prepositions, basic concepts and describing words. I also like to work on WH-questions and ask my kids "Who says moo?" or "Who drives the tractor?" or "What is it?" Some fun books to pair with farm sets include "I Went Walking" by Sue Williams and "Moo Baa La La La" by Sandra Boynton. Amazon has some cute farm sets! Here are some of my favorites:
Melissa & Doug Fold and Go Wooden Barn with 7 Animal play figures
Kiddie Play Farm Toys Set with Farm Animals for Toddlers (25 pieces)
3. Play Food Sets
There is SO much you can do with play food! I especially love the wooden play food sets. Work on pretend play, verbs, vocabulary, and articulation. I have a wooden baking set that the kids absolutely love! It includes cookies, cookie sheet, frosting toppers, an oven mitt, and wooden tools such as a knife, spatula, and rolling pin. You can get lots of /k/ practice in with this particular set! Also, the cookies and frosting have Velcro pieces on it so I like to work on prepositions ("Oh, you put the chocolate frosting on the cookie!") and also in/out of the oven.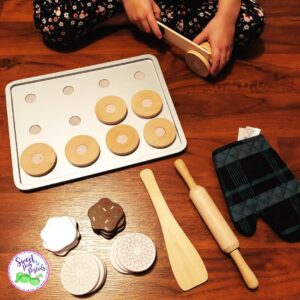 To target verbs, we cut the cookies, roll the dough, and spread the frosting. This is also fun to pair with a doll or the animals from the farm set. We work on feeding the different animals and talk about what they are eating. So fun! Here are some of my favorites on Amazon:
Melissa & Doug Slice and Bake Wooden Cookie Play Food Set
Melissa & Doug Pizza Party Wooden Play Food Set with 54 Toppings
4. Legos/Blocks
I like to teach counting, shapes, and colors with my littlest friends while we play with blocks. I also like to work on requesting ("more block" or "I want block"), prepositions while stacking ("block on."), and basic concepts ("big tower" and "little tower"). Playing with blocks enables children to be creative and use their imagination as they build robots, castles, or maybe houses. I also like to bring in animals while we are playing with blocks and hide them in various places. I may hide a horse behind the tower and ask, "Where's horse?" to work on asking and answering questions as well as prepositions (behind). There are endless ways to encourage communication skills while playing with blocks! I love these sets:
Melissa & Doug Wooden Building Blocks Set - 100 Blocks in 4 Colors and 9 Shapes
Mega Bloks 80-Piece Big Building Bag, Classic
5. Doctor kits
Doctor kits are wonderful at facilitating communication! We talk about emotions/feelings (the baby feels sick) and work on answering WH-questions. I may ask my kids, "Where is baby's boo-boo?" or "What hurts?" and "What should we do to make baby feel better?" My preschoolers love playing doctor (as do my own little girls at home!). This is the one I have:
Disney Doc McStuffins ORIGINAL Doctor's Bag- Exclusive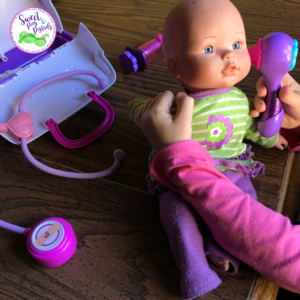 What are your favorite toys to promote speech & language skills? I'd love to hear! Check out my Teachers Pay Teachers Store for more fun speech & language activities!
(This post contains Amazon Affiliate links which means if you purchase something using my link I may make a small commission)