I absolutely love incorporating books into my speech therapy sessions! As a traveling SLP, I love that I can target a variety of goals with a single book. Read below to see some of my favorite books.
1. I Went Walking by Sue Williams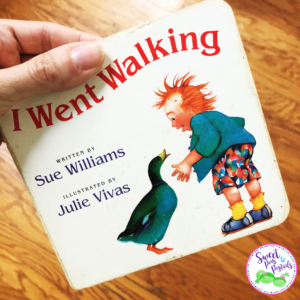 I've been using this book in speech for many years and it's one of my all-time favorites! I remember hearing about this book at an ASHA convention as a new SLP and I knew I had to get it for my kids. Plus, it's all about animals, so of course it's a huge hit with children! There are many different goals you can target with this book.
-naming and describing animals
-inferencing
This book also uses repetitive language, which makes it fun for the kids to help read aloud!
2. When Your Elephant Has the Sniffles by Susanna Leonard Hill
This is such a fun book about a little girl and all the things she does to help her sniffly elephant feel better. My kids love it and it's perfect to use during cold and flu season. I love using this book in speech to cover a variety of different areas.
-teaching empathy and caring for others
-teaching about germs
-multisyllabic words
-articulation, especially /s/ blends, /l/, and /ch/
3. Today I Will Fly! by Mo Willems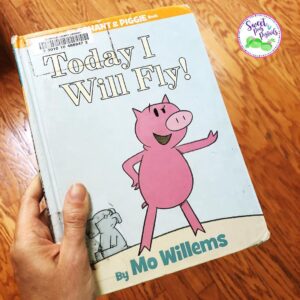 I really love this book (and all his other books!) by Mo Willems about two animal friends, an elephant and a pig. Elephant isn't quite sure that his friend pig can fly, but pig tries really hard to make her dream of flying come true! There are so many areas that you can target in speech with this book.
-nonverbal language (Elephant and Piggie are quite animated so we work on interpreting body language, facial expressions, and emotions)
-teaching encouragement
-articulation, especially /l/ and /l/ blends
4. Giraffes Can't Dance by Giles Andreae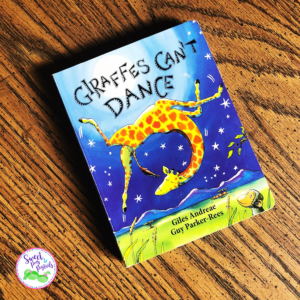 This is a book about a giraffe named Gerald who wants to dance but can't. He gets teased by the other animals when he starts dancing which leaves him feeling sad and lonely. He meets a cricket who encourages him, telling him he's not a bad dancer but that he hasn't found the right music. I love using this book to target a ton of speech and language targets!
-teaching children about the importance of accepting their own differences, as well as the differences of others.
-adjectives
-articulation
-rhyming
-plurals
5. Ten Apples Up On Top! By Dr. Suess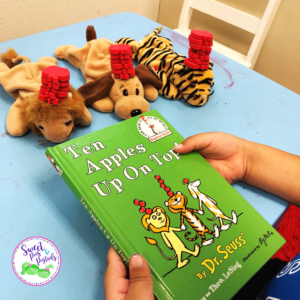 Even though the apple theme is perfect for back to school and the fall season, I literally use this book all the time! I carry around three of my old beanie baby friends (Roary the Lion, Bones the Dog, and Stripes the Tiger) that I have lying around my house from years ago, and it works out perfectly with this book. The kids enjoy putting "apples" on top of each animal's heads as we read along and they seem to never get tired of it! I use this book to target so many goals!
-basic concepts (more, less, etc.)
-counting
-prepositions
-verbs
-feelings
-possessives
What are your favorite books to use in your speech therapy sessions?! I'd love to hear!
Check out my Teachers Pay Teachers Store for more fun speech & language activities!
To learn more about each book, click on each title:
When Your Elephant Has the Sniffles
(This post contains Amazon Affiliate links which means if you purchase something using my links I may make a small commission)