I feel like Play-Doh is totally one of those must-have staples in any speech room. Having Play-Doh around seriously makes my life as a speech therapist easier. The kids love it, you can use it to target tons of speech and language goals and it's so engaging! It also can be a good conversation piece, like the time my yellow Play-Doh matched my yellow pants!
Read below to find out how I use Play-Doh with my kids to target a variety of goals!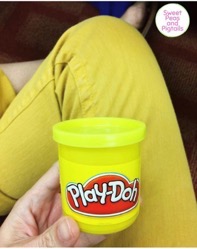 1. Requesting
With so many options to choose from, Play-Doh is perfect for targeting requesting. My kids can choose a color, request to open the Play-Doh and request which Play-Doh toy they want to use (roller, animal shape, etc.).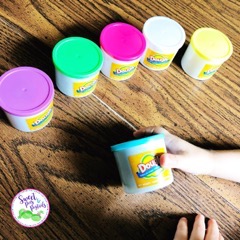 2. Following directions
So much fun working on following directions activities with Play-Doh. The kids don't even know they're working! To target one-step directions with modifiers, I might ask the child to make a green snake or put the blue circle in the cup. For two-step directions, I may ask the child to make a yellow duck then make a purple turtle. You can make it more difficult by adding temporal concepts (before/after), more colors, and more steps! Super easy and fun!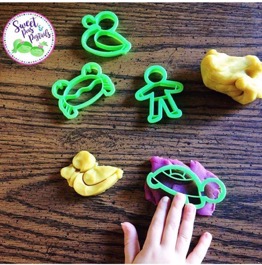 3. Negation
To work on negation, you can ask your students, "which one is not yellow?" or "which one is not a duck?" Again, most kids don't even realize you're working on their goals!
4. Basic Concepts
Having Play-Doh in your speech room or bag is also a good thing because it's an easy way to target basic concepts! I like to use it to work on size, shape, color, quantitative concepts, qualitative concepts, and same/different.
5. Categories
We have lots of fun making animals, foods, letters, shapes, and all sorts of other things out of Play-Doh! Such an easy, fun way to target categories!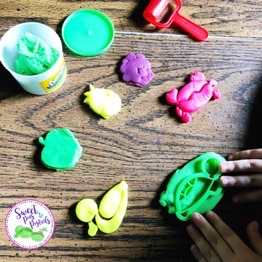 6. Apraxia/Articulation
Have you heard of Play-Doh smash mats? They are functional, interactive, and great for getting in lots of repetitions during your sessions! I've created some gum-ball apraxia of speech smash mats that I like to use with my kids! Once laminated (or in a sheet protector), you can use over an over again with your kiddos. Just roll the Play-Doh into pre-made balls and then have your students smash the word after they say it!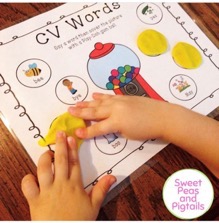 7. Vocabulary
One way I use Play-Doh to target vocabulary is by using it with my pre-school vocabulary smash mats! The kids love smashing the pictures! We work on farm and zoo animals, sea life, insects, clothing, food, things around the house, etc. These mats are also great for categories!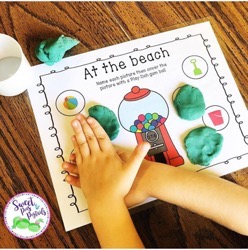 8. Rhyming
Sometimes we work on rhyming while playing with Play-Doh. For example, if the child makes a snake, we will try to think of words that rhyme with snake. Another way I like to incorporate rhyming into my sessions with Play-Doh is by using my rhyming lollipop smash mats! We work on identifying and expressing rhymes with these mats and the kids love it because they're making "lollipops."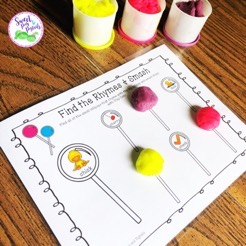 9. Letter/Sound Recognition
It's so much fun to make letters with our dough! We like to talk about the letter and what sound it makes and then try to think of words that start with that sound.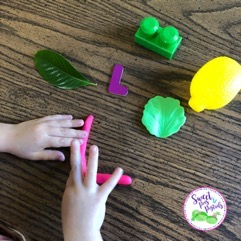 10. WH-Questions
It's pretty easy to sneak in some WH-question work while making things! For instance, if a student makes a ball, I might ask them, "What do you do with a ball?" or "Where do you play with a ball?" Another way I target this goal is by using my WH-question smash mats! I ask my child a question and they get to smash the answer!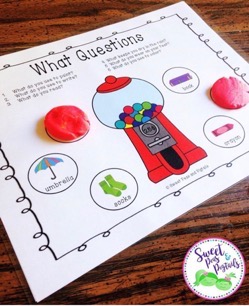 How do you use Play-Doh in speech?! I'd love to hear!
Check out my Teachers Pay Teachers Store for more fun speech & language activities!