I love that I can do SO much in speech with just a box of common objects! I have a box of things I've collected over the years, including my old phone, socks, a flashlight, sunglasses, ball, comb, cup, an old watch, and some toys from my kids. I like to store everything in a clear storage box or when I'm traveling from site to site, I just throw them in a big freezer-size Ziploc bag and toss it in my therapy bag. Read on to see the 10 ways I use common objects in my speech sessions.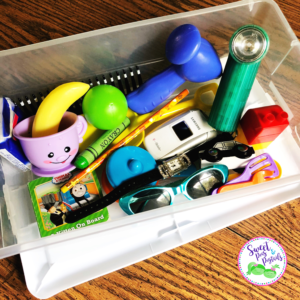 1. Identifying and naming objects
Ok, so this one is a given, but it's so important! I start by placing two or three items in front of my student and asking them to point to the phone for example. Once they have learned to identify the objects, we move on to naming them. I reverse the scenario and have them be the teacher, telling me which object to find. I may also work on a little articulation if needed during this step of naming objects.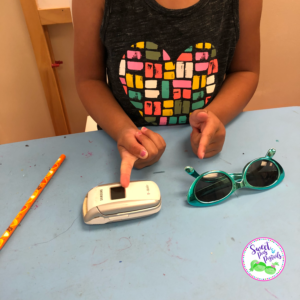 2. Object functions
Working on functions is so easy to do with a box of objects. First, we work on identifying functions ("Which one do we throw?" Or "Which one tells time?") from a field of two or three. After we've mastered identifying object functions, we move on to expressing object functions and they tell me how we use each item.
3. Counting Syllables
In my box I have sunglasses, a spatula, a shovel, a teacup, a hammer, and a banana, making it easy to work on counting syllables or producing multisyllabic words. If you are working on syllables, keep this in mind as you find objects to use in your box.
4. WH-Questions
While we have the box out, I may ask a WH-question about the different objects such as "Why do we wear sunglasses?" or "When do you need a comb?"
5. Requesting
The kids actually are really fascinated by the box, I don't know what it is! My students especially enjoy asking for my very old cell phone! Depending on their level, I'll have them ask using a phrase or sentence "more phone" or "I want ball."
6. Increasing Sentence Length (MLU)
Talk about the colors and other descriptors and add words to make utterances more complex such as "I want the green ball" or "I want the little book."
7. Categories
Purposefully fill your box with many different kinds of items within the same category and have your student separate the objects into the different categories. For example, throw in some different play foods, some school supplies, some toys, and maybe some small clothing items such as a pair of socks and a scarf. Baby or doll clothing is great for this because everything is so tiny!
8. Prepositions
Target prepositions by hiding the various items in the bag, under the table, next to/in between other items. I also may have my student tell me where to hide the items to focus on expressing those location words.
9. Verbs
You can target tons of verbs with different objects! We talk about rolling, throwing, and bouncing the ball, or talking on the phone, digging with the shovel, cooking eggs in the pan, etc. To target past tense verbs, I'll have my student roll the ball for example, and ask "What did you just do? You ____ (rolled) the ball!"
10. Pronouns
Pronoun work is easy to sneak in with a box of different items. Work on "my cup" or "your crayon." We also may grab some dolls or other stuffed animals and work on "he," "she," "his," and "hers" while giving the different items to the designated dolls. "He wants the carrot, it's his." "She wants the banana. It's hers."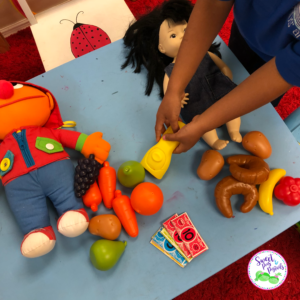 How do you use common objects in speech?! I'd love to hear!
Check out my Teachers Pay Teachers Store for more fun speech & language activities!
(This post contains Amazon Affiliate links which means if you purchase something using my link I may make a small commission)