Winter is here, although it doesn't feel much like it where I live! Nonetheless, in the spirit of the season, I've created a FREE activity for you to use with your kids to help target phonological awareness skills. Phonological awareness is the ability to understand how sounds work in spoken language. Some examples of phonological awareness skills include:
*Segmenting words (clap for each word heard in a sentence)
*Counting syllables (clap for each syllable in the word "rainbow")
*Blending syllables (tell me what word this is: "com-pu-ter")
*Segmenting syllables (tell me two words in the word "snowman")
*Deleting syllables (say "doghouse" without "house")
*Rhyming
These skills lay the foundation for literacy and research has shown that children who perform well on phonological awareness tasks usually are or become good readers. Students at risk for reading difficulties oftentimes have lower levels of phonological awareness than do their peers. However, there is good news for these struggling students: phonological awareness can be developed through a number of activities, including the freebie I've included for you today!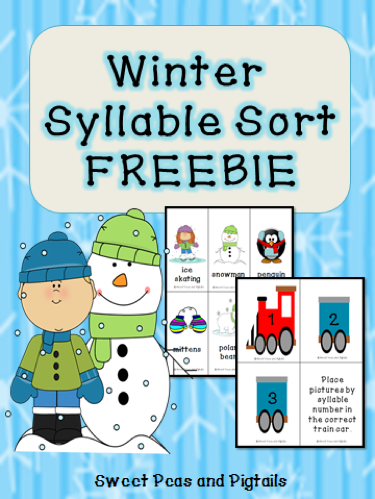 This packet (downloaded at the end of the post) includes 24 adorable winter-themed pictures that are one, two, or three syllables in length. Have your children say the word and clap or tap out the syllables. Once they have determined the number of syllables, they can place the pictures by syllable number into the correct train car. So fun!! These are great because you don't need a lot of supplies-- just print, laminate, and cut them out.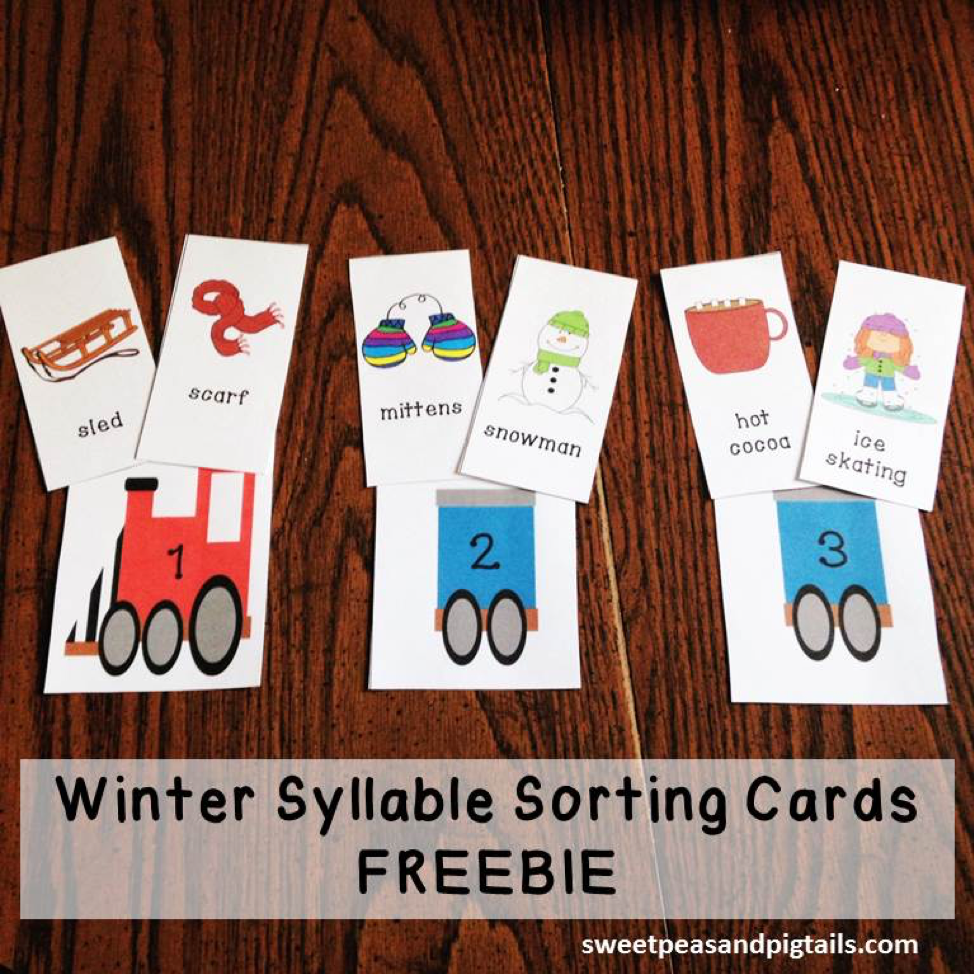 The ability to count syllables in words is important because it increases a child's awareness that words can be split into smaller parts. It's easier for kids to start with larger parts of words such as syllables and then progress to the individual sounds that make up the words. Children learn to read by listening to others read to them and then they start to recognize the sounds and start sounding out words. When kids play with words they learn to recognize patterns and use that knowledge to read. This activity, as well as rhyming activities and hand clapping games, are great ways to engage them in word play.
Need more syllable practice? Check out my store for additional products such as Counting Syllables, which includes 72 pictures of 1, 2, and 3 syllable words. For more activities targeting phonological awareness, check out my Phonological Awareness Bundle, which includes four different activities: counting syllables, rhyming, blending CVC words, and identifying beginning/ending sounds.
DOWNLOAD Winter Syllable Sorting Cards HERE