Updated September 23, 2023
I don't know about you, but I'm always looking for fun ways to work on answering WH-questions in my speech therapy sessions.
Enter gumball smash mats. I'm telling you; these mats have been SO engaging for my little friends who are working on this goal of answering questions! I mean, how cute are those little Play-Doh gumballs?!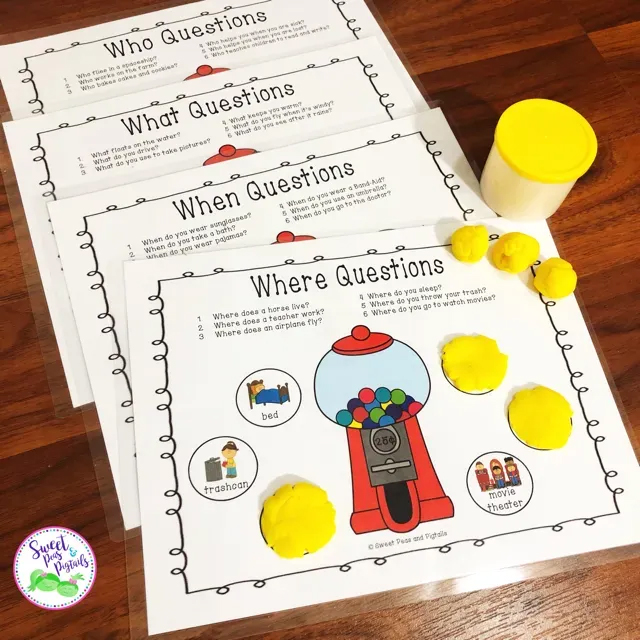 I created these smash mats with preschoolers in mind. I take them to daycares and preschools and I also use them in the clinic with my three- and four-year-old students. And of course, I've used them with some of my early elementary aged kiddos as well.
There are 10 smash mats included in this packet, with 6 questions per mat:
This packet includes 10 total smash mats with 6 questions per mat:
2 WHO smash mats
4 WHAT smash mats
2 WHEN smash mats
2 WHERE smash mats
I like to laminate each smash mat for durability. Ask your child one of the questions listed and then have your child cover the answer with a Play-Doh "gumball"! Change up the color Play-Doh if you're brave and want multiple gumball colors. 😉 I'm not that brave!
Continue until all pictures have been covered. I tend to mix up the order that I ask the question each session so the kids don't get used to a pattern.
If you don't have Play-Doh on hand, use the magnetic chips with the magic wand or use pom poms. I think that those kind of look like gumballs too! 😊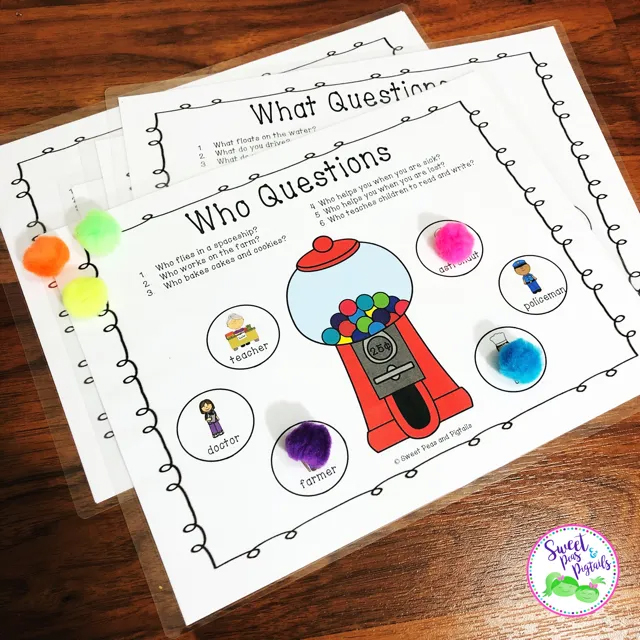 Click here to check out WH-Questions Smash Mats. I hope you find them helpful!