March is so much fun in speech! With spring just about here, St. Patrick's Day in the middle of the month, and Easter right around the corner, there are tons of things you can do, especially with sensory bins! I absolutely love using sensory bins with my students. Using a sensory bin is a great way to build speech and language and I've found that it keeps my children's attention for longer periods of time. All you need is a plastic bin of some sort and some filler items! And I'm all about easy, so read below to find simple (but still fun!) sensory bin ideas you can use in your therapy room!
1. Rainbow Pom Poms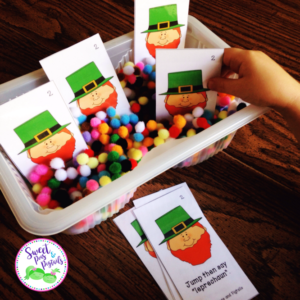 I found these mini pom poms on Amazon that work so well as a rainbow sensory bin for St. Patrick's Day! So easy and I love just throwing any kind of card that I'm working on in the bin. Here, I put my St. Patrick's Day Following Direction Cards inside and the kids had to draw a card and complete the command.
2. Shredded Color Paper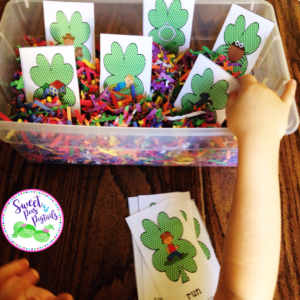 To make another rainbow bin, I just shredded different colored construction paper. See, super simple! 😊 I actually shredded two sheets of each color of the rainbow and I had more than enough paper to fill my bin! I threw in my St. Patrick's Day Articulation Cards for a fun speech activity.
3. Easter Grass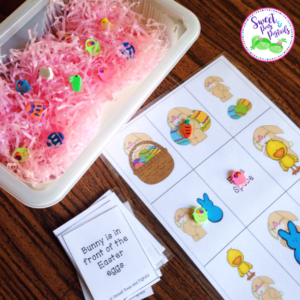 For an Easter/spring theme, use any colored Easter grass and hide items in there whether it's flash cards or other objects. I like to hide flashcards, small toys, or spring-themed mini erasers in there! Here, we were playing Easter Preposition Bingo, and then after the students took their turn, they got to search for a mini eraser in the bin and put it on their answer! You can even extend the activity once it's over by talking about how the erasers are the same and how they are different and sort them into categories. So fun!
Well, there you have a few sensory bin ideas for March. Do you have any fun sensory bins you like to use during the Spring season? I'd love to hear your ideas!
Check out my Teachers Pay Teachers Store for more fun speech & language activities!