For the past few years or so, I've been incorporating sensory bins into my speech therapy sessions. My daughters also enjoy playing with mama's sensory bins at home. Using a sensory bin is a great way to build speech and language skills and it definitely makes my therapy sessions more fun and exciting for my little ones (and even for some of my older kiddos)!
What are sensory bins?
Sensory bins are basically containers filled with different sensory materials. They are created to stimulate the child's senses (see, hear, touch, taste, and smell). The first thing you need to do is find a bin to use. Sometimes I use a Sterilite plastic bin with a lid but I've also used any containers or bins that I may have around the house. Then, choose a filler for inside the bin. I usually like to center my bins around the holidays or seasons so that determines which filler I choose. For winter, I like to use cotton balls for "snow" and for spring, I like to use Easter grass or beans. In the summer, I usually use kinetic sand or blue shredded paper for "water" and in the fall I picked up some silk leaves at the dollar store that worked really well! The possibilities for fillers are endless!
How to use sensory bins in speech
Sensory bins are so much fun in speech! I love throwing any type of flashcard into a cotton ball sensory bin during the winter season! Pictured here are my s-blend snowmen flashcards! We pull them out, say our word, and then cover the picture with a "snowball" (white Play-Doh or a cotton ball). It's so much fun!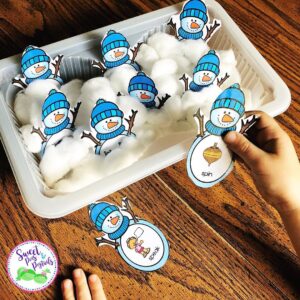 In the spring, I like to use Easter grass and for this particular bin, I hid spring-themed mini erasers inside. Here, we were playing Easter Preposition Bingo, and then after the students took their turn, they got to search for a mini eraser in the bin and put it on their bingo board!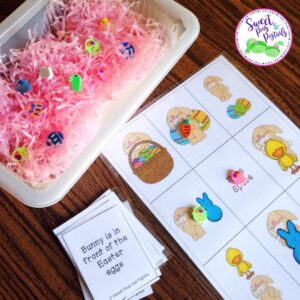 Pictured below is an example of a summer-themed sensory bin. I filled it with blue shredded paper for the "water" and the kids loved fishing for verbs while playing bingo. My smaller kids worked on pronouns, naming actions, and possessives while my older kids worked on verb tenses, rhyming, and grammar.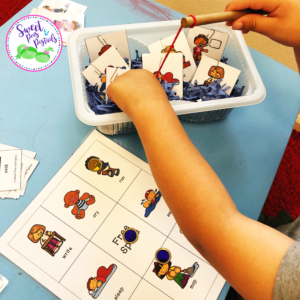 My fall sensory bins typically have popcorn kernels or dollar store leaves. For this bin, the kids pulled out the calling cards and then used black & white bingo game boards with dot markers for the pictures because we are a little obsessed with those too. 😊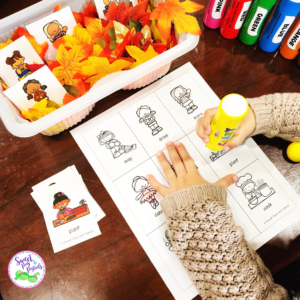 Other areas to target
Of course, you can throw anything into your bins, it doesn't just have to be flashcards! Throw in little objects or toy people! Work on prepositions such as in/out, on/off, under/over, etc. Target verbs (open/close, scoop, dig, etc.) while playing with the sensory bin. The kids won't even know they are working!
Do you use sensory bins in your speech therapy sessions?! I'd love to hear! Check out my Teachers Pay Teachers Store for more fun speech & language activities!
(This post contains Amazon Affiliate links which means if you purchase something using my link I may make a small commission)