Materials for idioms are sometimes difficult to find, so I thought I'd create a product of my own. 😉 I have a student on my caseload who struggles with understanding idioms, and I feel like I'm always bending over backwards trying to teach him what they mean!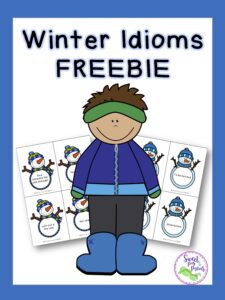 Included in this packet are 12 winter-themed idiom snowman flashcards as well as 12 definition snowman cards. Laminate and cut apart flashcards. I like to flip the cards over and play as a memory matching game by placing the idiom flashcards on one side of the table and the definition cards on the other side. I then have my students choose one idiom flash card and one definition flash card. If it matches, they get to keep the cards. The player with the most matches at the end of the game wins!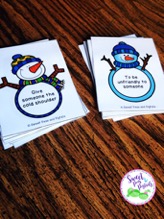 Another way you can play is to put the idiom cards in a sensory bin and have your student choose one at a time. Depending on their level, he or she can then match it to the definition or maybe even use it in a sentence independently.
I hope you enjoy this freebie! Let me know if it helps your kiddos!
Click here to download freebie!