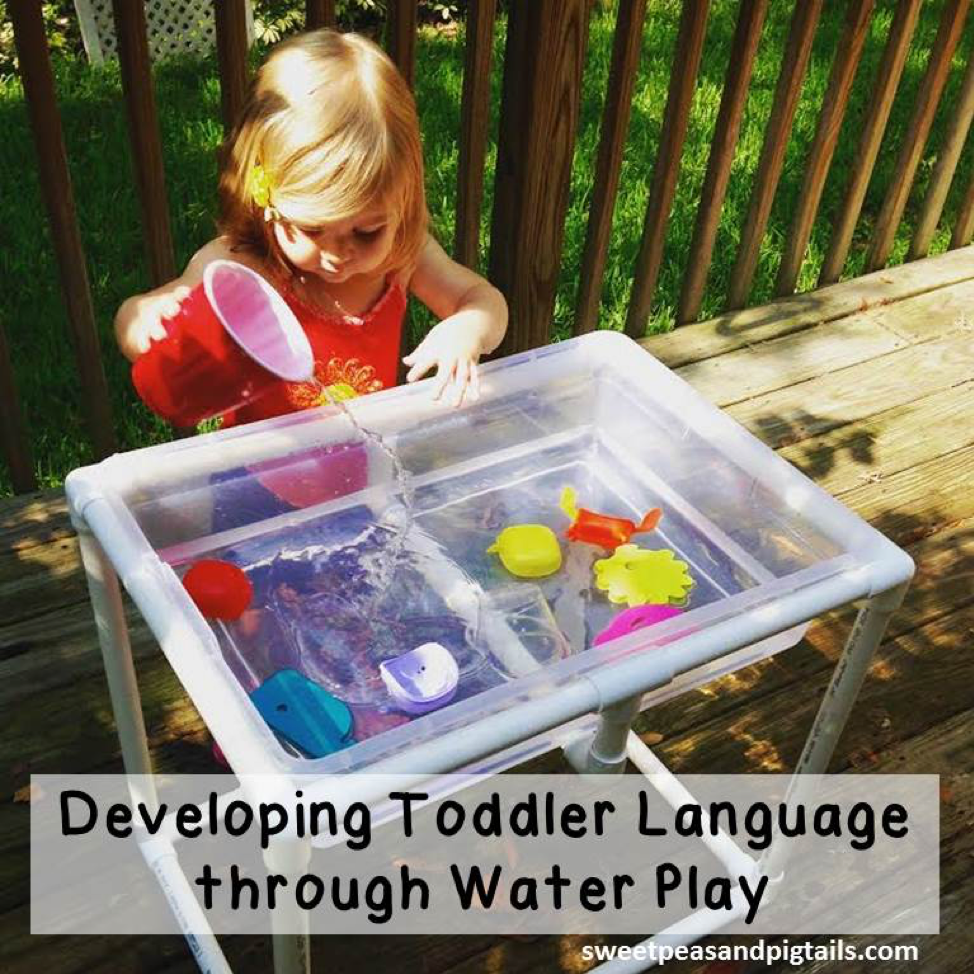 My little girl loves water, whether it's the pool, the bathtub, her water bottle, or the splash pad. I thought it might be a good idea to get a water table for the backyard. Summer is definitely here and being 7 months pregnant, I'm always looking for fun activities to keep us all nice and cool. I searched the web but many of the water tables I found were listed for more than I wanted to pay. Enter Pinterest. I stumbled across a blog for a DIY water table that would end up costing only around $30 to make. I showed my husband and a few days later he went and bought all the things we needed to make the table and had it built in no time! Thank goodness for handy husbands! 😄
Today was the first day Sweet Pea played with her water table. We went out on the back deck, I filled it up and then threw in some plastic cups of different sizes, a scooper, as well as some bath toys. She loved it!! This water table literally kept her entertained for over an hour! That's an eternity when you have a toddler!
Ok, so I'm already in love with this table. Not only did it cool us off, but it also kept Sweet Pea occupied. And I just love the learning that can take place during activities like these. I'm a speech pathologist, so I'm always trying to think of ways to foster speech and language development in my own toddler. This water table is great at building language and vocabulary! We splashed, spilled, poured, scooped, squirted, made bubbles, got wet and made the fish swim and float. We also talked about whether the cups were full or empty, In addition, Sweet Pea worked on her requesting skills ("mommy help") since she couldn't quite scoop water in the cups by herself yet.
Water play is also good for physical development. It encourages the development of hand/eye coordination as they work on pouring, squirting, and stirring. I think next time I'll throw in some wooden spoons and some plastic bowls and see what she does with them. It also promotes gross motor skills. Not only did she want to fill the cups with water, she wanted to carry the cups across the deck, down the steps into the grass and then pour the water on the grass. She had to learn to walk carefully and try to figure out how to hold the cups so they didn't spill. It's also a great sensory activity as she puts her hands in the water and deals with the temperature (cold water) and the different textures of the toys and other items.
This would also be a fun playdate activity to target social skills. Water play can increase social skills as the children learn to play cooperatively and share. Next time, we will have to invite one of Sweet Pea's little friends over! 😃
For more fun speech & language activities, check out my Teachers Pay Teachers store here!