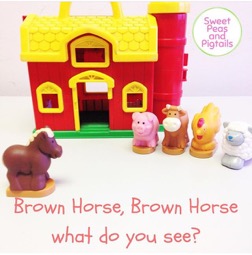 I absolutely love the classic "Brown Bear, Brown Bear, What Do You See?" It's such a good therapy tool for targeting many different goals including colors, asking/answering questions, turn taking, and vocabulary. My speech kiddos absolutely love this book as do my own children at home!
As I was planning one of my therapy sessions recently, the toy farm animals caught my eye. I thought that it might be fun to modify Brown Bear a little to help this little one with some of her goals. I spread out the animals on the table and gave her the brown horse. We sang, "Brown Horse, Brown Horse, What Do You See? I see a ______ looking at me," filling in the blank with a farm animal such as "pink pig" or "yellow duck." This was such a hit with my little preschool friend. She absolutely loved singing along and asking questions, putting the animals in the barn and taking them out (prepositions), and answering yes/no and WH questions (what does a cow say?). We also targeted some of her articulation goals (/f/ in "farm" and ending sounds on words).
This activity was so engaging and one of our best sessions! You really can't go wrong with farm animals. What are some fun play-based activities your preschoolers like?