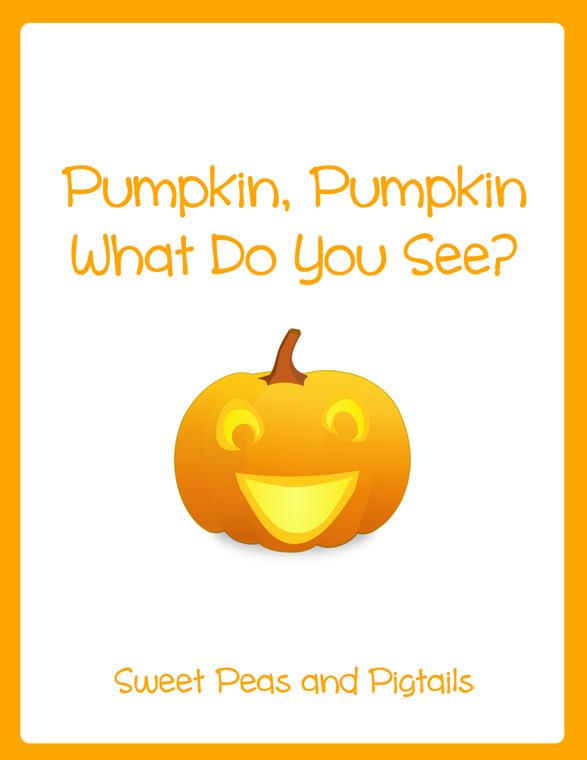 My absolute faaaavorite season is fall. I love the cooler weather, warm apple cider, baking with pumpkin, and all the fall festivities that take place. Since fall is here, I created a little book based off of the classic children's book Brown Bear, Brown Bear, What Do You See? It's called Pumpkin, Pumpkin, What Do You See? (Download it for free here!) I thought it'd be fun to read because I LOVE Brown Bear. I've used it in speech therapy with the little kids for years and it's always a hit. It's predictable, colorful, rhythmic, and great for teaching language! My 13 month old daughter enjoys listening to me sing (yes, you read that right, I sing it to her) this book to her and together we point at the animals and try to make the animal sounds. Check out the video below to see the author, Bill Martin singing the book.

I mentioned that Brown Bear is wonderful at teaching language. Not only does it teach animals and colors, but it also works on comprehending the question "What do you see?" and phrase "I see a _______ looking at me." Kids usually learn words in chunks. For instance, my daughter understands the phrase "all done" but she does not understand "all" in another context as in "Do you want ALL of those?" So when I read it, I mean sing it to her, I try to say that question and phrase in chunks.

You can even expand on this book and ask more WH questions about each animal such as "What does he eat?", "Where does he live?" or "What color is he?"

So as you can see there are just so many language opportunities with Brown Bear. Pumpkin, Pumpkin has just as many opportunities! I'm using Pumpkin, Pumpkin, What Do You See? to teach Sweet Pea fall vocabulary (pumpkin, apple, leaf, scarecrow, turkey, acorn, rake, and pumpkin pie). Just like Brown Bear, it will work for teaching colors and give more practice with the question "What do you see?" and phrase "I see a ______ looking at me." This book can also be expanded and I've thought of some WH questions you could also ask older kiddos while reading this book.
Where can we find a pumpkin?
What can we do with the pumpkin?
Where can we get apples?
What can we do with apples?
Where do leaves grow?
What happens to leaves in the Fall?
Why do farmers use scarecrows?
What does a turkey say?
Where does a turkey live?
What kind of tree do acorns come from?
What do we do with a rake?
What do we do with pumpkin pie?
What color is _______ (pumpkin, apple, etc.)?
Of course Sweet Pea at 13 months cannot answer these questions yet so I'll just simply explain each picture to her answering some of these questions while I show her the picture. So I'd probably say "That's a pumpkin and it's orange! We can go to the pumpkin patch or to the grocery store and get one." That's IF she doesn't flip through the pages quickly. If she's in a sleepy, restful mood and willing to listen longer, I'll expand and talk about each picture. I really just follow her lead.
Here's some pictures of her looking at the book. She really seemed to like it!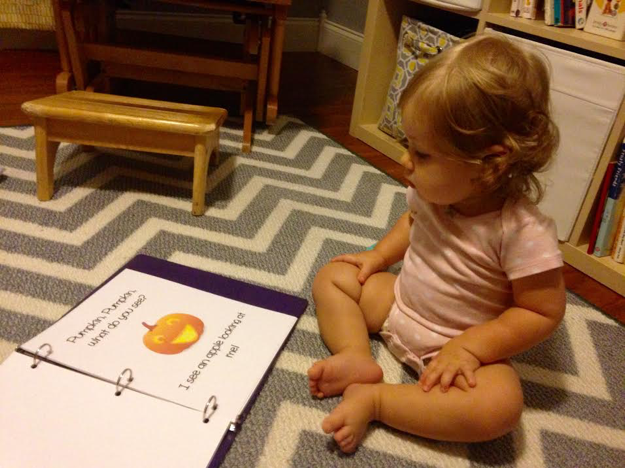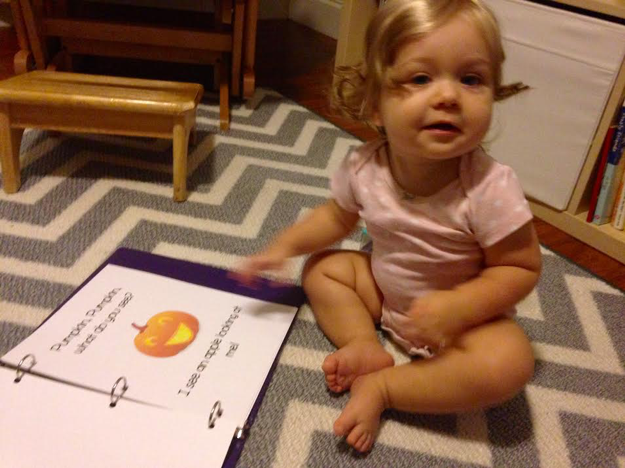 I printed it on cardstock so it is more durable. If you have a laminator, that would work even better to prevent those little hands from tearing it!
I hope you enjoy your little Fall booklet! 😃