Summer is in full swing and we are enjoying every bit of it! I'm a mom to two little girls, an almost three-year-old and an almost five-year-old. I've also worked as a speech language pathologist for over 13 years. Ever since my girls were born, I've loved incorporating easy, fun activities to build their speech and language skills. This is the first summer that I am not working since I began my career as an SLP and I wanted to share with you some of the activities that have kept us busy so far this summer, all while building my girls' speech and language skills!
1. Go On A Nature Walk
My girls and I love being outside, so this was such a fun activity for us. I just grabbed some paper bags and a sharpie and we brainstormed some things that we might find outside. I then wrote them on the bag and off we went! Not only did the girls have a blast, but there was so much language learning going on with this activity: categories (these are insects, those are flowers, etc.), basic concepts and describing (the butterfly is yellow, the rock is hard, the stick is long and thin, etc.), and comparing/contrasting (that leaf is brown and this leaf is green).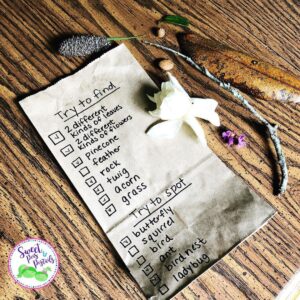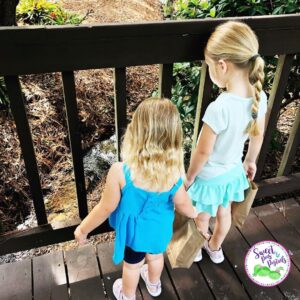 2. Play In The Water
Three summers ago, when my oldest daughter was just a toddler and I was seven months pregnant with my youngest daughter, my husband built a water table. The girls love playing with it every summer and I love that you can target so much speech and language with a fun activity like this. We usually throw in our flamingo floats, some bath toys, balls, cups, and scoopers, and the girls entertain themselves!
You can teach a ton of language-rich vocabulary during this activity: splash, pour, scoop, float, sink, full, empty, wet, dry, spill, soak, squirt, and swim. This activity is also great for requesting and social skills (taking turns, sharing toys, etc.), especially when the little neighbor friends come over to play.
3. Visit Your Local Library For Story Time
Every week, we visit our local public library for story time. It lasts about 20 minutes and it is jam-packed with so many fun activities from singing songs to puppet shows to listening to the librarian read a story. Afterwards, the girls head over to the children's section for some playtime with the other kids.
My girls love going to the library and checking out stacks of books. Most libraries have summer reading programs for children to participate. At our library when you sign up, you get to choose a free book. Then we received a packet full of ideas and activities to work on at home. Story time is definitely something I recommend year-round to parents with little ones, and if you can't make it during the week, some libraries offer Saturday programs.
4. Make A Special Treat In The Kitchen
For Independence Day, my girls and I spent some time making our American flag fruit dish which consisted of blueberries, strawberries, and marshmallows. I started making this with my oldest when she was just a toddler and when I was pregnant with my youngest and ever since it's been our little tradition. It's so easy to make and it's the perfect summer dish!
My girls love helping in the kitchen and I love all the language learning that takes place: sequencing (first we are going to rinse off the strawberries, then mom will cut them, then we will put them in the dish), following directions (put the blueberries in the dish then put the strawberries in), turn taking (the girls each took turns putting fruit/marshmallows in the dish), attention, describing (the blueberries feel squishy, my hands are wet, etc.), and spatial concepts (the marshmallows go under the strawberries, etc.).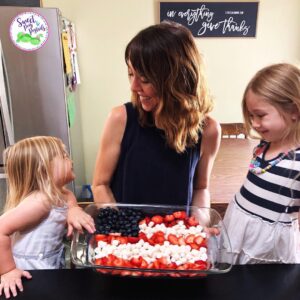 5. Play A Game
My four-year daughter has been getting into games recently. Her current favorites are Go Fish, Memory and Candyland. She asks me often to play these games with her, so I'll play with her for a little while during the day since her little sister isn't quite big enough to play by herself yet.
Did you know that while playing games, kids are practicing social skills such as turn taking and making eye contact? And not just that! They're also learning basic concepts (colors, size, shapes, numbers/counting, etc.), and following directions. For example, when you play a memory matching game, you are trying to find cards that are the same. Cards that are not the same are not matches.
This opens up lots of discussion such as talking about how they are different or maybe the pictures are the same color but they are different fish for example (a blue shark and a blue dolphin). We then go on to count our matches and figure out which person has the most cards. These are important math skills for children to grasp.
So, pull out the card and board games and get playing with your children on those rainy or too hot to play outside days! You are building great language skills in your children when you do!
6. Make A Craft At A Local Crafting Store
Did you know that some craft stores offer free crafts for kids?! We are lucky enough to live close to a Lakeshore Learning store and on Saturdays they have a kid's craft time. On one of the Saturdays we went, the girls made noisemakers! They had a blast and didn't even realize they were practicing some skills such as requesting for the colors/stickers they wanted on their cups, asking for help if they couldn't tape the cups together by themselves, following directions (put 5 beads in the cup, etc.) and waiting their turn if someone else had the color marker they wanted. We definitely plan on going again in the future.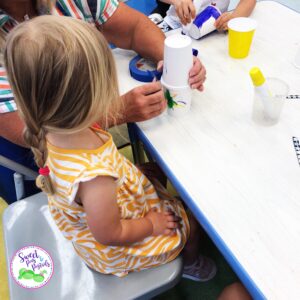 If you don't live near a Lakeshore Learning store, I've heard that Michaels offers 30-minute crafts for children ages three and up on Saturdays and Home Depot offers free workshops for kids on the weekends. Make sure to check with your local stores to see the activities they offer!
7. Visit The Park
The park is a wonderful place to promote speech and language skills. I started bringing my children to the park when they were just babies. I remember when my husband and I were brand new parents and we would take our new baby on long walks every evening to unwind. By the time she was able to sit on her own, we started putting her in the baby swing at the park. Let me tell you, there is SO much language you can target just on the swing, and not just for babies, but toddlers and preschoolers too!
I always tell parents to narrate their days while talking with their babies and children. The more words a child hears, the better! They might not be able to talk back yet, but they are listening. So with my baby, when I put her in the swing, I might say, "I'm putting you in the swing." "You're such a big girl!" "The swing moves back and forth." "I'm going to stop the swing." You get the idea!
For toddlers, I might say "Ready, set…" and pause before saying "go" and let them say the word. I also might stop the swing and see if they will sign or say "more" and then repeat the "Ready, set, go" again. We also work on "stop", "fast", "slow", "high", "low", and "in" and "out" when getting in and out of the swing. And with both toddlers and preschoolers, you can always work on turn taking when there is only one swing.
And of course, you can go to any park! No playground equipment is required. We enjoy taking the girls to a local park that has a walking trail around a lake and we talk about the ducks and turtles we see. There's something about getting out in nature that is so relaxing for us!
Well there you have it! I hope this gave you some ideas for some summer activities, and if you have one to add, I'd love to hear it!
Be sure to check out my TpT store for more fun speech and language activities you can use with your child.