Speech therapy does not have to be fancy to be effective. While working with children and being a mommy to two little ones of my own, I've found that kids are motivated by the simplest things! I've also found that using common items unconventionally with my kids keeps them very engaged! Read on to find simple, no prep activities to help keep your kids interested during your sessions.
1. Mini eraser race
All you need is a plastic cup for each child, a dice, and a bunch of mini erasers! Take turns rolling the dice and then put that many erasers in your cup and the person with the most erasers at the end is the winner! This activity was super fun and engaging and required no prep at all! We used it to work on counting, turn taking, prepositions (in/out), colors, articulation, basic concepts (more/less, full/empty), naming items (bunny, egg, basket, carrot, etc.), and increasing utterances (I got purple bunny).
I used my spring mini erasers for this activity but it would be fun to change it up for all of the seasons and holidays with different mini erasers! You could also play this game in between articulation cards and maybe have the child roll the dice and then say their word that many times and then continue on to fill their cups with that many erasers. The opportunities are endless!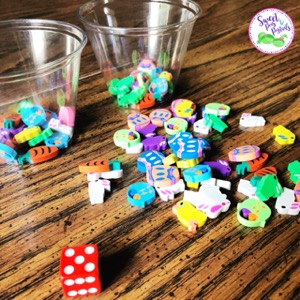 2. Fill the mega blocks
Here is an example of using a toy in an unconventional way! Turn a few mega blocks upside down. Have the child say their word and then roll the dice to see how many pom poms (or mini erasers, magnetic chips, paper clips, etc.) to put in the blocks! Continue until all blocks are filled or all words have been said!
Of course, you also get in some prepositions, color sorting, and fine motor practice with the tweezers! I paired this activity with my Apraxia flashcards and it was so much fun!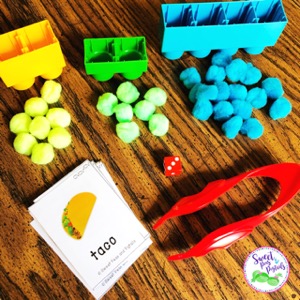 3. Sticker Lids
We go through a TON of almond milk in my house. We make smoothies every morning for breakfast so I use about five cartons of milk a week between me and my family. I thought it would be fun to save the lids and see if I could create something for speech! I saved up a bunch and actually made these sticker lids with a pack of stickers I got from the Target Dollar Spot. These stickers are summer-themed but again, you can make new ones for each season or holiday to change it up a bit!
For this activity, I just grabbed a sheet of paper and a marker and made up sentences. The child then places the lids under each sentence. This activity is great for describing, prepositions, basic concepts, and following directions. You can also reverse the roles and have your student give you the directions! If you want to make the activity more complex, add a few steps to the directions: "Knock on the door after you put the purple octopus under your chair!" or "Put the orange shell on top of the pink starfish before you stomp your feet!"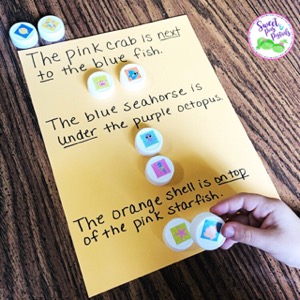 4. Cardboard lacing shapes
I always seem to have tons of boxes at my house, thank you Amazon Prime! If you're constantly ordering on Amazon like we are, then put all of that cardboard to use! We made lacing shapes by just cutting out basic shapes and then punching holes around the shape. Have your child decorate each shape with crayons and/or stickers and grab an old shoelace and you are set!
Target articulation (initial /l/ and final /s/ in "lace" and final /ch/ in "punch"), prepositions (lace through the hole and over/under), and requesting (request items for decorating their shapes). And of course, this activity is great for fine motor skills!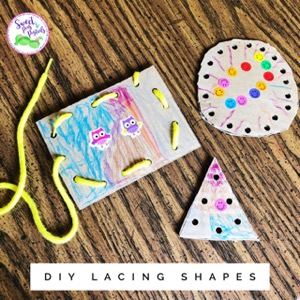 5. Ziploc bag smash mats
For this activity, you need a Ziploc bag and some pom poms. I printed my Preschool Vocabulary Smash Mats two to a page (printing half size is my new favorite thing!) and then laminated them and put them in the bag with the pom poms. We then pushed the pom poms (aka "gumballs") around to each picture and then named each picture! I love that it puts a different spin on an activity we use a lot!
This activity is perfect for travel therapy and for throwing into the diaper bag for your kids to do while waiting at the doctor or at restaurants!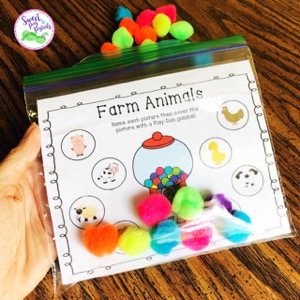 How do you keep your kids engaged in your speech therapy sessions?! I'd love to hear!
Check out my Teachers Pay Teachers Store for more fun speech & language activities!