Fall is here, even though it doesn't feel much like it here in Central Florida with temps in the 90's this first week of October! I definitely can't wait for it to cool down a little! Even though it still feels like summer around here, I've been trying to bring a little fall into my therapy sessions. Read below to see my favorite ways!
1. Apple Mini Erasers
How cute are these apple mini erasers I picked up at the Target Dollar Spot?! I've been using them since school started and they are perfect for fall! I primarily use them as markers on my negation flashcards, smash mats, and bingo games and the kids just love them! Sometimes, I'll lay out a few erasers and have my kiddos tap an apple while counting syllables as well.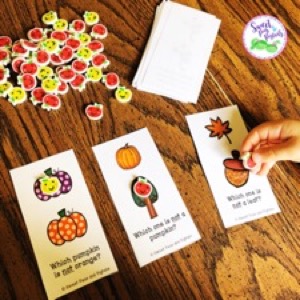 2. Play-Doh apples
So far, I've been all about apples in speech! We've been using a lot of red Play-Doh in our sessions on my apple-themed apraxia smash mats! I use these mats to target apraxia and articulation delays and the kids love making "apples" after they say their words!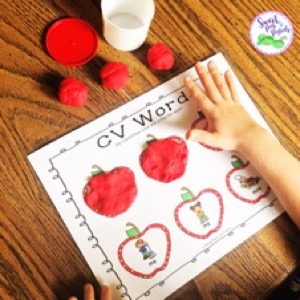 3. Incorporating books & other activities with apples, pumpkins, and leaves
Continuing with the apple theme (can you tell I like apples?!), I love using the book, "Ten Apples Up on Top!" with my kiddos in speech. We work on basic concepts, counting, prepositions, actions, feelings, and possessives. I usually have my students count along and put apples on top of lion, dog, and tiger's heads as we read and they just love it!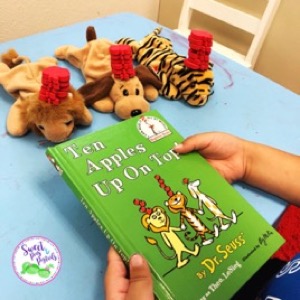 I also created a fun, little fall-themed book that I use a lot with my little ones this time of year! I use it for syllables, articulation, fall vocabulary, colors, and WH-questions. You can get Pumpkin, Pumpkin What Do You See? for FREE in my TPT store!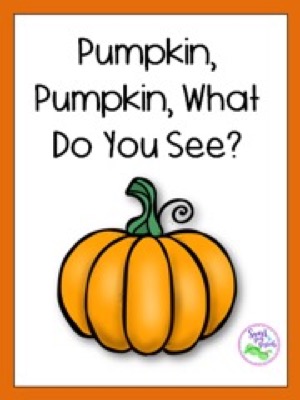 Another fun, fall freebie that is in my store is my Past Tense Verbs Thumbprint Leaves. The kids name the verb in the leaf and then say the past tense form of the verb. After that, they get to use an ink pad to make a thumbprint leaf! Of course, if you don't have an ink pad, you can always cover the leaves with game chips, mini erasers, use bingo daubers, or smash with Play-Doh after laminating!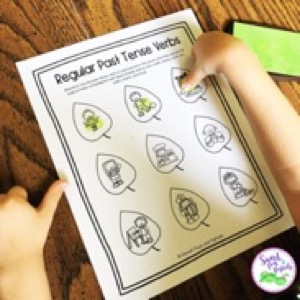 4. Fall Sensory Bins
I'm all about sensory bins in my sessions! I picked up these leaves at the dollar store and made a quick, easy fall sensory bin! I usually just throw in any kind of flashcards for a quick, fall activity! Pictured here is my Fall Preposition Bingo game!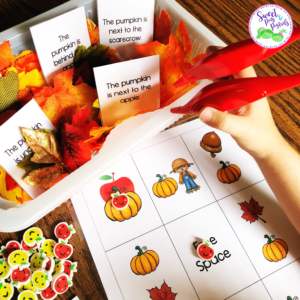 How do you incorporate fall into your speech therapy sessions?! I'd love to hear!
Check out my Teachers Pay Teachers Store for more fun fall speech & language activities!
(This post contains Amazon Affiliate links which means if you purchase something using my links I may make a small commission)