It can be extremely hard to keep little ones engaged during your speech sessions! Today I'm sharing my favorite ways to keep children engaged during therapy. And I'm all about easy, so you can start implementing these activities today!
1. Sensory Bins
Sensory bins are basically containers filled with different sensory materials to stimulate the child's senses (see, hear, touch, taste, and smell). They are so much fun in speech! Pictured below is one of my favorite sensory bins. I attached paper clips to the cards, filled the bin with blue shredded paper for the "water" and the kids fished for verbs while playing bingo. My smaller kids worked on pronouns, naming actions, and possessives while my older kids worked on verb tenses, rhyming, and grammar. I usually like to center my bins around the holidays or seasons so the kids definitely look forward to all of the different bins.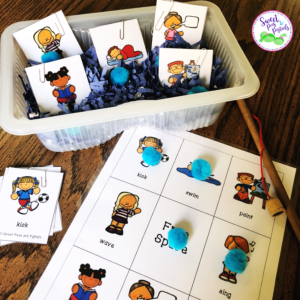 2. Smash mats
Have you ever used smash mats in therapy?! They are a hit with my kids! We usually use Play-Doh, but sometimes we cover the pictures with mini erasers or pom poms to change it up a little. And other times, I'll break out the bingo chips & the magic wand!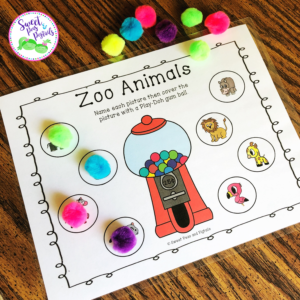 3. Movement
Little ones definitely need movement from time to time so they can stay focused. One way I incorporate movement is by writing actions on popsicle sticks while targeting following directions. The child draws a stick (or two!) and then performs the action(s) (hop to the door, etc.). I also use my themed following direction cards a lot during my sessions which always are a hit!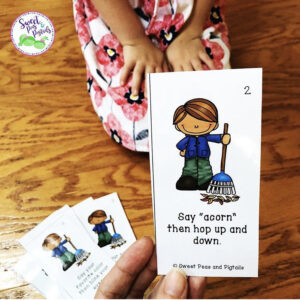 Another easy way to get your children up and moving is by using books! Some of my favorites to get those wiggles out are Barnyard Dance by Sandra Boynton and From Head to Toe by Eric Carle. And, you can target a variety of goals while reading the books, so it's a win-win!
4. Puzzles
I always make sure to have puzzles with me in my sessions! To incorporate fine motor into my sessions, sometimes I wrap the puzzles pieces in foil and throw them into a sensory bin with flash cards. In between cards, my kids get to choose a puzzle piece to unwrap as they work towards building the puzzle!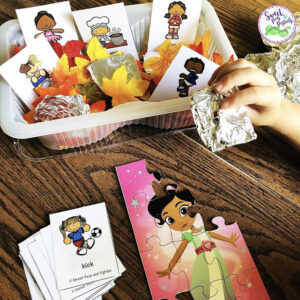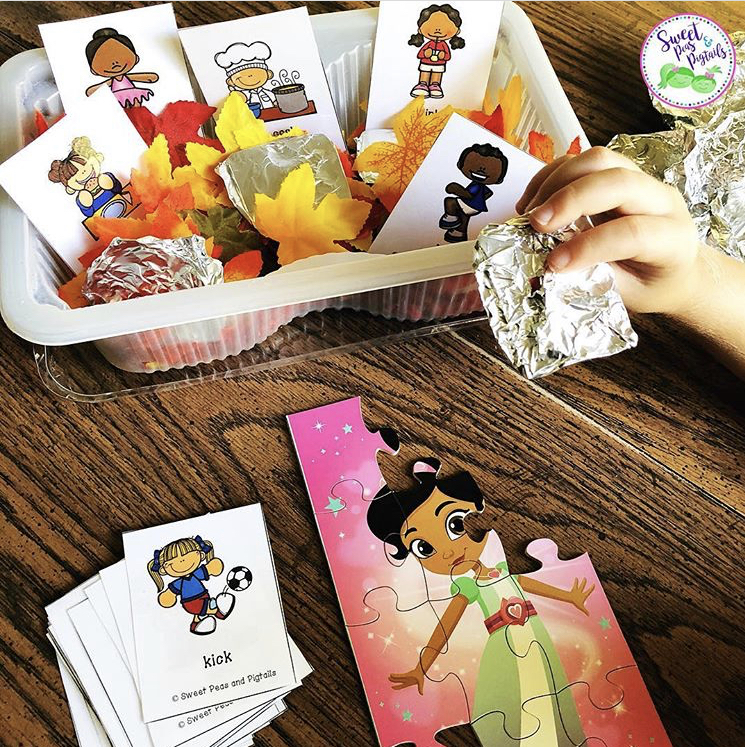 Or sometimes we just keep it super basic and throw the pieces in the bin without flash cards! With this puzzle, we work on prepositions (in/out), requesting for more, asking & answering yes/no questions ("is it a snake?"), naming animals & their sounds, describing, and articulation. Sometimes we also hide the pieces around the room and work on asking/answering "where" questions ("zebra, where are you?").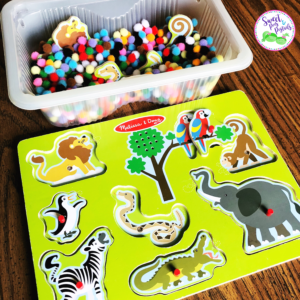 How do you keep your kids engaged in your speech therapy sessions?! I'd love to hear!
Check out my Teachers Pay Teachers Store for more fun speech & language activities!
(This post contains Amazon Affiliate links which means if you purchase something using my link I may make a small commission)