Before Sweet Pea was born, I started building her library.  I gladly collected hand-me-down books from relatives and friends and scanned books for my baby registry.  I knew I wanted her to learn to love books and as a speech pathologist, I knew just how important reading was, even early on.
I know it's crazy but I actually started reading to her while I was still pregnant.  Not all the time but when I thought of it.  Now, at 10 months, Sweet Pea LOVES books.  If given a choice between a really cool toy and a book, she'd probably choose the book 80% of the time.  She loves listening to her mama read, trying to turn the pages, and pointing at the pictures.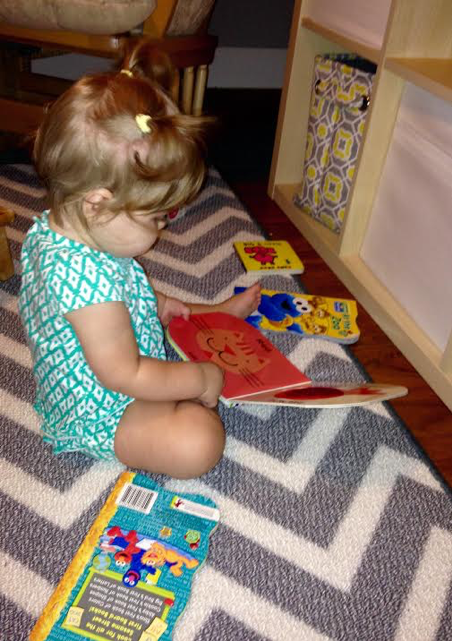 It's a good idea to start reading to our children when they are young. Kids learn to read by being read to. We as parents are our kids first and most influential teachers and the early experiences with reading provide the foundation they need to become good readers when they reach school.  Studies reveal that being read to was the most important predictor of later reading achievement.
When we read to our children, it:
Develops vocabulary
Expands experiential background
Increases awareness of the language of books
Introduces to basic concepts of print and how books read
Provides pleasant associations with books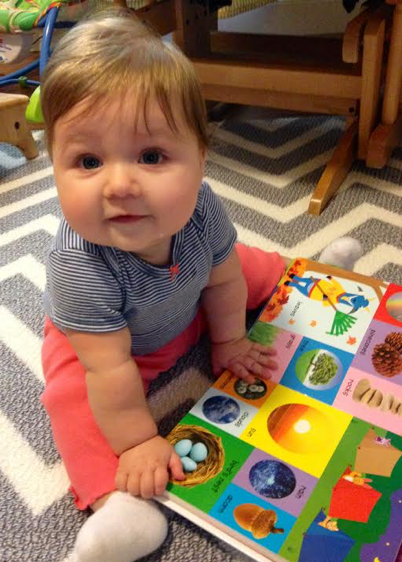 What kinds of books do we read to our babies?
Reading should be both fun and stress-free for both the kids and the parents. Sometimes Sweet Pea wants to skip pages or go through the book quickly.  Remember keep it light and stress free. If that happens, it's ok.  Follow the child's lead.  Try choosing nursery rhymes and books with repetitive patterns for the little ones.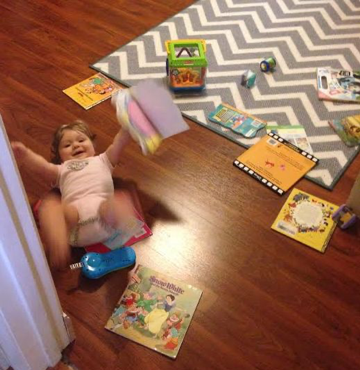 Sweet Pea loves board books with bright pictures and not many words.  Some of her favorites include: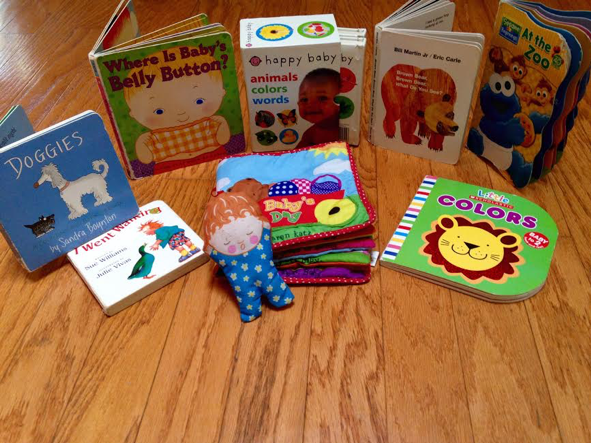 1. "Brown Bear, Brown Bear What Do You See?" by Eric Carle
This is such a classic and a great example of a book with a repetitive pattern! Each page features different colored animals and asks the same question, "Brown Bear, Brown Bear, What Do You See?" over and over again.  Great for teaching animals, colors, asking and answering questions. Sometimes I make the animal sound and tell the animals "hi" when we read it (when on the purple cat page, I may say "Hi cat" and meow like a cat.  Sweet Pea thinks it's hilarious).
2. "Doggies" by Sandra Boynton
This "counting and barking book" features lots and lots of dogs and their different barks.  Sweet Pea loves looking at the different doggies and listening to mama make their different barking sounds.
3. "Where Is Baby's Belly Button?" by Karen Katz
This was one of the first books I ever read to Sweet Pea.  It's a flap book so it's pretty interactive and it's great for asking/answering WH questions.  Sometimes I'll point out the different body parts on myself and Sweet Pea while we read along for extra language building.
4. "I Went Walking" by Sue Williams
This book is very similar to "Brown Bear Brown Bear" with its repetitive phrases and questions. This too is great for asking/answering questions and teaching colors and animals.
5. "Baby's Day" by Karen Katz
Another book by Karen Katz! This was another book I read early on to Sweet Pea.  It's an interactive cloth book featuring the different things baby does during the day.  Baby is attached by a ribbon and can move from page to page and "do" the different activities.
6. "Little Scholastic Colors" by Justine Smith
This is a touch and feel book that features different colored animals.  Another book Sweet Pea started with when she was itty bitty. She loves feeling the "bumpy frog" and the "fluffy bird".  We also (well mama anyways) make the different animal sounds when reading this book.
7. Happy Baby: 3 different books—"Colors", "Animals", and "Words" by Roger Priddy
These are great! Sweet Pea is just getting into these books and likes looking at the real-life pictures.  All three are soft touch board books.  I like them because the pages aren't too busy with about four pictures on each page.
8. Sesame Beginnings "At the Zoo"
This is one of Sweet Pea's all-time favorites.  She loves reading about Elmo and his friends visiting the zoo and looking at the different animals they see.  This is a rhyming book so I emphasize the words that rhyme when I read.  This book comes along with us wherever we go.  I remember we left it at a Disney character breakfast and realized it later on that day.  If it was any other book we might have shrugged our shoulders and forgot about it but not this one.  We left our Disney hotel and walked about a mile back to the other hotel to get the book which luckily was still there.
Well there you have it! Ten good book choices for babies under the age of one.  It was hard to narrow down because there are just SO MANY good books out there! I hope this helped you and I hope your baby enjoys these books as much as mine does.